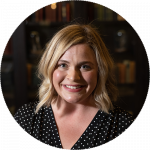 Talking Talent with Whitney Lindsey
As the recruiting landscape continues to evolve, KCTC reached out to several HR leaders in member companies to get their input on best practices and predictions for the future.
In this installment, we asked Whitney Lindsey, People Ops Manager at BARR Advisory to weigh in on the subject.
Q: How has the coronavirus impacted your role most significantly?
A: Fortunately, BARR has always been a remote organization, even before COVID-19. Not much has changed in the way that we hire, as we had already established great ways to thrive as a company within a virtual environment. Our top priority remains delivering the level of service our clients are accustomed to, virtually versus through onsite visits. Because we have the right tools and resources in place, we are predicting, even when travel resumes, that more clients will be open to—and even prefer—remote engagements as they prove highly efficient and cost-effective.
Q: What are some basic best practices for HR leaders such as yourself to keep in mind right now?
A: In today's climate, HR leaders, and all of Leadership, should be focused on associate well-being and engagement.. Fortunately, BARR has and will always lead with a people-first mentality, so we have internal practices and policies in place that help keep our associates happy and engaged while working remotely. Given the current challenges related to the pandemic as well as the recent and much-needed focus placed on human rights and equity issues, our HR team is even more tuned in to how we can support our team in the ways of health and mental wellness; communication channels in times of need; and learning opportunities focused on inclusion, wellness, and engagement.
Q: In regards to recruiting candidates, have you adjusted your recruiting techniques or leveraged new tools as a result of the Covid-19 crisis? If so, what are some examples of short-term adjustments you believe will remain as long-term strategies?
A: Because BARR has always been a remote organization, our recruiting practices have not changed significantly. However, we appreciate how LinkedIn now allows organizations to post positions as "remote" versus in a specific city. While BARR has always been committed to an inclusive workplace, we are expanding our recruiting efforts to foster and recruit more diverse applicants. We are always seeking opportunities to partner with professional organizations that promote this mission and diverse candidates, such as military and veterans, women in cybersecurity, Black and Hispanic professionals. We continue to assess our recruitment process and look for ways to improve within our team and our industry. This is not necessarily related to COVID-19, but it is extremely important given our current global events.
Q: How do you see remote work changing the way companies recruit and attract a talented tech workforce?
A: I am hopeful that the impact will be mostly positive. At BARR, we look for the most qualified candidate and ensure they align with our company values. Location has never played a part in our recruiting process, and I believe that more companies are going to adopt this way of thinking. Removing the geographic barriers creates a larger and more diverse candidate pool.We have clients all over the U.S., so it works well that our associates also live and work in different cities. Organizations are going to be looking for technology and resources that will support remote recruitment, including job postings, virtual interviews, and impactful remote onboarding.
Q:  What's a good piece of advice you'd give to fellow HR and talent professionals of something they should be doing, or something to avoid? 
My number one piece of advice is to listen to your associates. Focus on their well-being and engagement. Do you know your people? Are they happy and engaged? Or are they struggling? Do they feel valued and included? Coach your people leaders on how to do this through regular one-on-one conversations, whether it be in Slack, Zoom or over the phone. These check-ins should be frequent and viewed as critical to foster associate satisfaction and engagement.