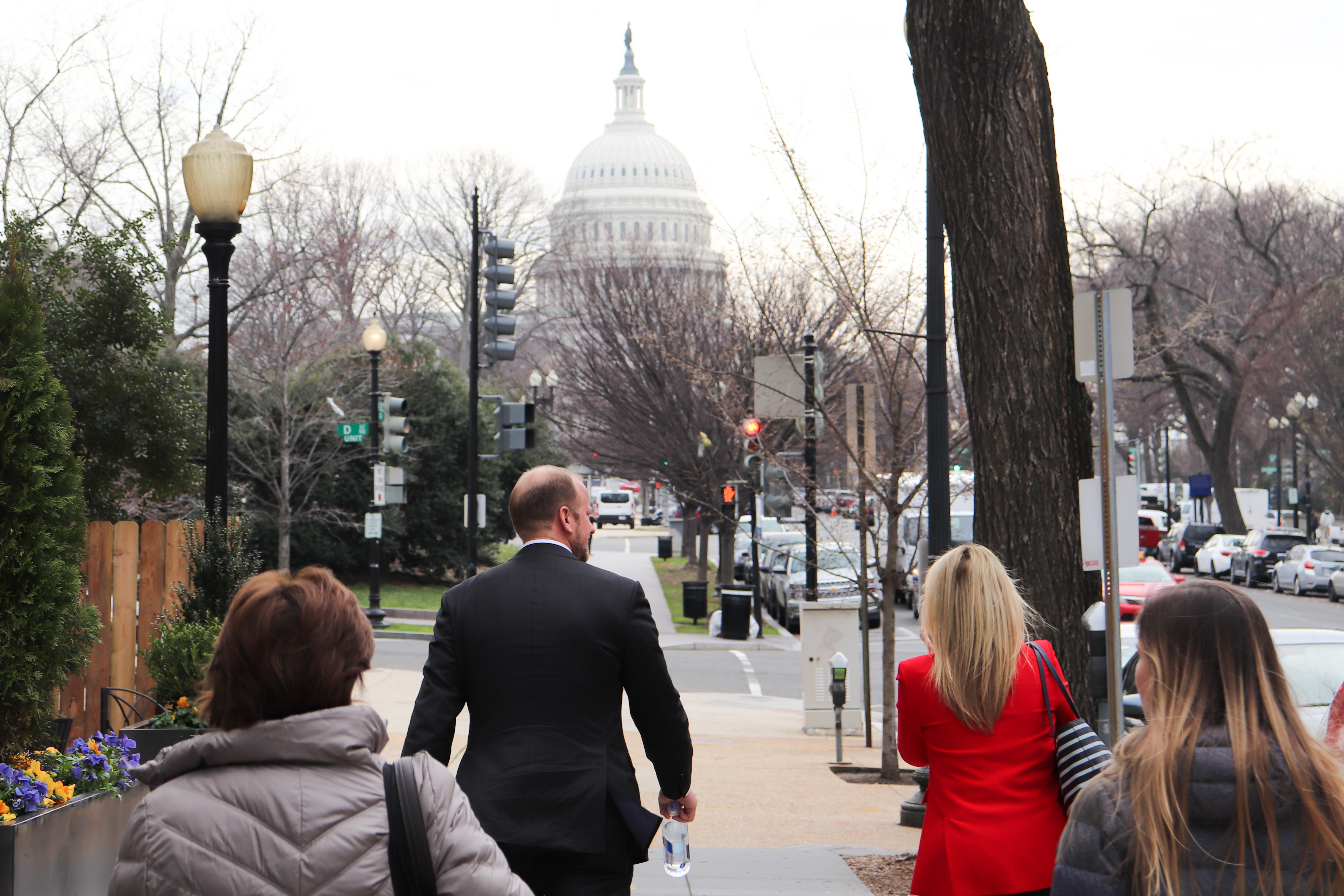 On February 11 & 12, 2020, the KC Tech Council traveled to Washington, D.C. with nine delegates representing six different companies including Garmin, DataBank, JE Dunn, KCADC, VMLY&R and of course, KC Tech Council.
KCTC partnered with Tech Councils of North America (TECNA) to create content based on issues that are shaping federal tech policy. Thought leaders from all over the country gathered to discuss important issues such as 5G, infrastructure, data privacy and AB-5 and disruption in the gig economy.
As the TECNA policy committee chair, KCTC President & CEO Ryan Weber played a large role in curating speakers. Weber moderated a panel on state and federal privacy and Mark Houpt, CISO of DataBank, spoke on a panel focused on secure infrastructure.
After a morning of thought-provoking discussions surrounding these policies, attendees walked to Capitol Hill and met with Kansas and Missouri legislators including Sen. Jerry Moran (KS), Sen. Roy Blunt (MO), Rep. Sharice Davids (KS), Sen. Josh Hawley (KS) and Rep. Emanuel Cleaver II (MO). All the offices were engaged and contributed something new to the conversation. Sen. Jerry Moran continues to lead efforts on federal data privacy legislation from the Senate.
JE Dunn's Mission Critical team hosted a send-off dinner for delegates following the Hill visits. Thank you, JE Dunn! The delegation returned to Kansas City the following morning.
This visit marked the fourth year the KC Tech Council has traveled with a delegation of leaders from our region's tech industry to build relationships with our elected officials and advocate for policy that enhances the growth of our industry, and benefits all our member companies. This trip supports one of KCTC's three strategic pillars: policy advocacy. These annual visits grant business leaders the ability to communicate their concerns in realtime with the people who shape the future of the industry and its potential to thrive.
Interested in attending the D.C. Fly-In next year? Email us to be added to the invitation list.
Here's what we discussed with lawmakers:
Federal/ State Data Privacy Laws

In 2018, the European Union passed groundbreaking legislation -- General Data Privacy Rights (GDPR). Last year, the California Consumer Privacy Act (CCPA) was passed and went into effect on January 1, 2020. Both laws have brought unprecedented changes to businesses. CCPA is the first of what is likely to be a coming wave of US consumer data privacy regulations at the state and potentially federal level.
AB-5 and Disruption in the GIG Economy: Employees vs. Contractors

In 2019, California Governor Gavin Newsom signed into law AB-5, defining whether workers should be classified as independent workers or employees. The legislation was ostensibly enacted to codify the California Supreme Court's Dynamex decision and will have a substantial impact on the tech sector. AB-5 chooses winners and losers the legislature deems worthy of an exemption.
Creating a Secure and Resilient Public Infrastructure

With the proliferation of gathering, storing and using data organizations and agencies in both the public and private sector technology is paramount. Conversely, the growing sophistication of bad actors is outpacing what can be done to fully prevent an attack and many of their business models are to target organizations with public missions that likely have insurance or Rainy-Day Funds, which will be used to get online quickly.
Information on these policies provided by Technology Councils of North America (TECNA).