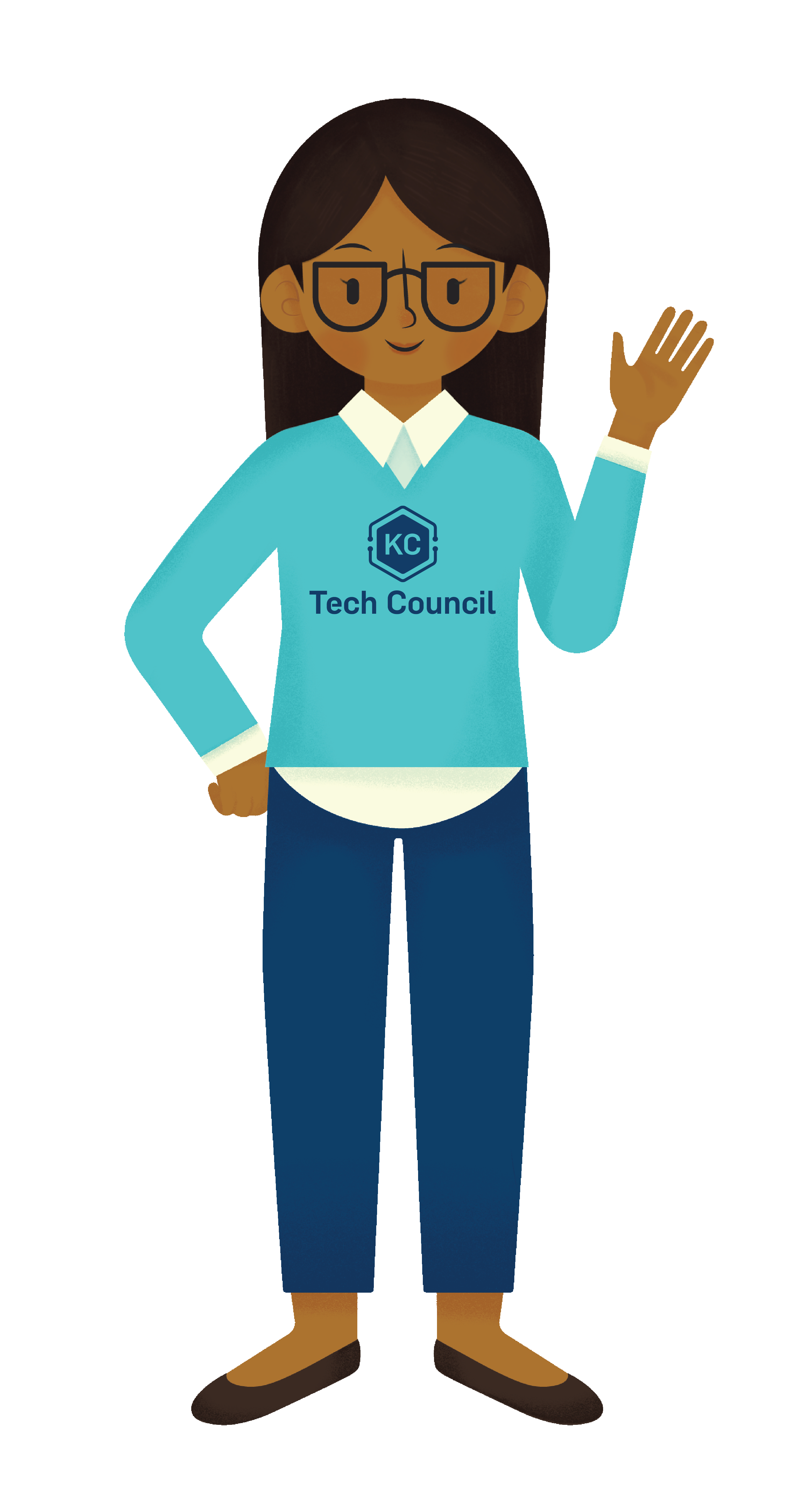 Kansas City is my home and computer science is my passion. That's why CS Ed Week is my favorite holiday, and I look forward to celebrating it with you!
Whether we're meeting for the first time, or we are pals from the past few years, if you're on this page, you know the important role computer science plays in our society. And, you understand the important role YOU can play in advocating for it! My friends at the KC Tech Council created me to help you increase awareness of the skills gap, encourage folks to support CS education, and showcase the cool things you do to bolster CS ed in our region.
Unfortunately, life-sized me won't be able to see all your faces when making my way around town this year. However, thanks to our friends at VMLY&R and the power of technology, I'm back and ready for the world of distanced learning! You can print me out at home or use a filter to share your CS Ed journey. All you have to do is snap a photo, tell your friends at the KC Tech Council how you're celebrating CS Ed Week and share it with the hashtag #CSEdWeekKC.
Explore the hashtag #CSEdWeekKC to follow my journey and don't forget to share your journey with me!
Listen in to a very special episode of KCTC's Byte by Byte to hear from the Hour of Code and Code.org founder himself: Hadi Partovi.
WeCodeKC is an initiative that serves the urban core of KC, exposing youth to various programming languages, technology, cyber security, and computer science concepts. Learning the basic concept of coding develops creativity, problem solving skills, builds confidence and helps to build a positive future. Every child, no matter their zip code or their family's financial status, should have the opportunity to learn to code.
Kids love technology, games and having fun with friends. Parents want to give their kids the best and brightest future possible. Everyone wins at Code Ninjas. Kids (ages 7-14) learn to code through engaging game-based curriculum that teaches teamwork, logic, math and problem solving. They gain vital skills while having a blast.
Burns & McDonnell has created a collection of how-to videos and projects for a variety of STEM-related ideas sure to excite curious young minds. Wrangle up the kiddos to complete activities such as putting energy to good use by building rubber band-powered cotton ball launchers, learning about circuits while building your own operation game and using water and compressed air to demonstrate Newton's Third Law.
Science City is the place for inquisitive young minds to create, explore, and experiment with the world of science through hands-on activities and non-stop fun. Through it's Science at Home content, kids can create more than 60 instructables including a homemade parachute and a rubber band powered boat.
CoderDojoKC is a volunteer-powered way to teach youth to not only to code, but to problem solve, create, and collaborate around technical solutions. To help children learn to code virtually, it has curated a list of fun games to teach everything from building JavaScript apps to learning HTML.
Code.org is a nonprofit dedicated to expanding access to computer science in schools and increasing participation by young women and students from other underrepresented groups. With over 117 million projects created, there's no doubt students have a blast participating in the Hour of Code, Express Courses and more.
Highlights from #CSEdWeekKC 2018 & 2019