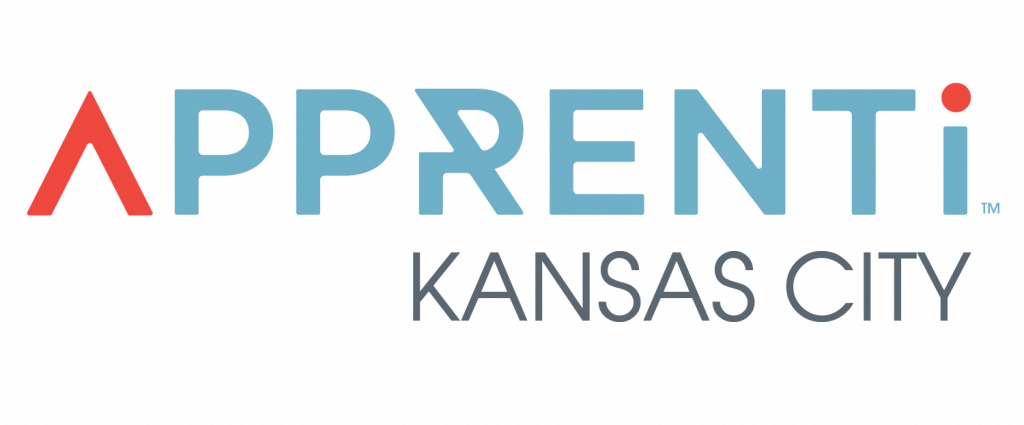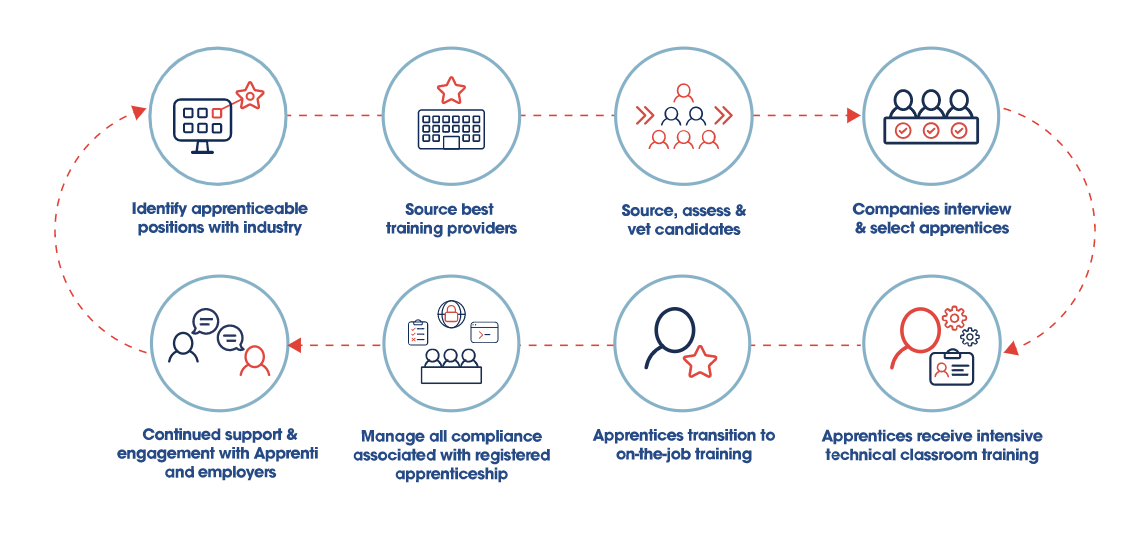 Are You a Part of a Kansas Organization?
The KC Tech Council was recently awarded a grant through the state of Kansas to expand Apprenti into other markets and support the state's economic growth. This funding will assist in getting the program implemented as well as support the training costs for apprentices.
What is the Apprenti Model/Program?
Apprenti delivers unique Registered Apprenticeship programs for tech roles in any size company – both non-tech and tech companies. Our programs are designed to meet employers' long-term hiring needs to fill skills gaps and vital headcount, and are unique in that we provide all support and services from securing employers' commitment to headcount, sourcing highly-qualified diverse candidates, source training for very specific in-demand tech jobs. Apprenti manages the program and apprentices until completion along with all regulatory compliance and reporting needed for related funding. With the goal of helping employers onboard apprentices as permanent full-time employees, our program is successful at placing new hires, or upskilling or reskilling existing staff.
Can I be a hiring partner? What is a hiring partner?
A hiring company is willing to allocate headcount or consulting dollars to onboard non-traditional talent and provide mentorship to get that talent up to speed in an earn and learn model. Essentially, our hiring partners nationally are going through a paradigm shift from consumers of tech talent to also cultivating new tech talent.
How does a company become a hiring partner? Who should I contact to learn more?
Determine which middle-skills roles are hard to fill, going unfilled for more than a couple of months, and/or are costing you productivity within your company, and contact us to get started.
What is a Registered Apprenticeship?
Registered Apprenticeship is flexible, customized and integrated in your workforce strategy and comes with a number of business protections and financial incentives. This Apprenticeship system is a continuous learning and training model that is designed to pass knowledge in graduated steps over a period of time from an experienced employee to someone entering the field with a baseline of technical skills required in the job. Registered Apprenticeship focuses on the way people develop skills: through hands-on and formal training. This traditional model dates back centuries and has been proven in trade and now, in technology fields. Registered Apprenticeships are proven programs that create a skilled, dedicated workforce.
Apprenti has spent four years working nationally with employers, policy-makers, and workforce development organizations to identify what roles and skills companies are looking for to meet their long-term tech talent needs. Today, we have the only end-to-end scalable tech apprenticeship program that has become the new pathway for employers to increase diversity and retention, while reducing cost and time to hire.
What is the difference between an internship and a Registered Apprenticeship?
Internships offer the chance to experience a job, jobs or work environment for a short duration, typically lasting 1-6 months, with variable structure to any on-the-job training. Registered apprenticeships are an "earn while you learn" model, with competency benchmarks, where apprentices are paid while they learn a skill or trade in the work environment as a means to entering a specific job and career. The commitment is longer term (at least 1 year) with structured technical and on-the-job training. Successful completion results in a transferable nationally recognized credential certifying competency as a fully qualified worker in that occupational role; though apprentices can be converted earlier if they've met the requirements.
What is on-the-job training?
The second part of the Apprenti model is structured on-the-job training (OJT) with a company assigned mentor. OJT is roughly 2000 hours and consists of work processes that introduce the apprentice to the greatest depth and breadth of knowledge in that particular role. The company mentors the apprentice while they gain in experience to become a fully integrated and productive member of their team.
During training, are apprentices considered regular employees of the company?
Yes. Apprenticeship is a job, so apprentices are employees. Following your company policies, apprentices are eligible for the same benefits as other employees in that same role. Apprenti can also assist with helping to identify an appropriate job classification code for the apprenticeship role, if needed.
What am I committing to as a hiring partner?
Hiring partners commit to bringing on an apprentice for a 12-month period, after the apprentice has completed their initial two to five-month technical training. During this period, employers assign a mentor to work with each apprentice, and together we create a 12-month OJT plan to create the structure to ensure the apprentice receives the best training to become a valued long-term hire. Employers also commit to pay the apprentices and evaluate their progress during OJT. Apprentices must adhere to standard employer guidelines.
Are employers required to hiring apprentices after the apprenticeship?
Employment at the conclusion of apprenticeship is "at will", so employers are not required to hire their apprentice post OJT, however, 8 out of 10 apprentices receive full-time offers at the completion of their program. Employers find their investment in job-specific apprentice training pays off.
What kind of tech roles can Apprenti help me fill?
View the available occupations.
Does Apprenti help us save money?
YES! Consider how much you spend on recruitment, relocation, loss of employees to competitors, and the investment your staff makes to onboard new hires each year. Apprenticeships provide you with a "homegrown" employee, who is trained by your experienced employees to your specifications, on your equipment, processes, platforms and software and at a reduced wage while they learn.
Studies show a huge return-on-investment from registered apprenticeship programs. Apprentices are 91% more likely to remain employed with a company long-term, reducing recruitment and turnover costs for employers! Investing in apprenticeship also increases overall quality of work and productivity. To save on training costs, Apprenti seeks out grants and employer tax credits, where applicable, in order to pass those savings on to participating hiring partners.
What are the "reduced wage benefits" Apprenti offers?
Registered apprenticeship is a DOL-protected wage class that offers lower pay in exchange for investing in the training of workers who are not yet fully qualified for their positions. During apprenticeship, wages increase in steps as the apprentice builds skill toward the normal qualifications for the position.
Apprenti sets a minimum required wage (typically from $17-25/hr depending on role and location), which represents significant savings over the starting salaries for fully-qualified workers. Employers are free to set apprentice pay anywhere between the Apprenti minimum and their regular starting salary for the role based on their desired level of savings. Wage savings are invested in the costs of technical training for apprentices and the remainder is realized as cash for the employer. Factoring in these reduced wages and employer contributions to training costs, Apprenti employers typically see payroll costs about 20-25% lower than a regular hire over the 12-month on-the-job phase of apprenticeship.
Have a question that hasn't been answered or want to discuss getting involved? Contact us here.