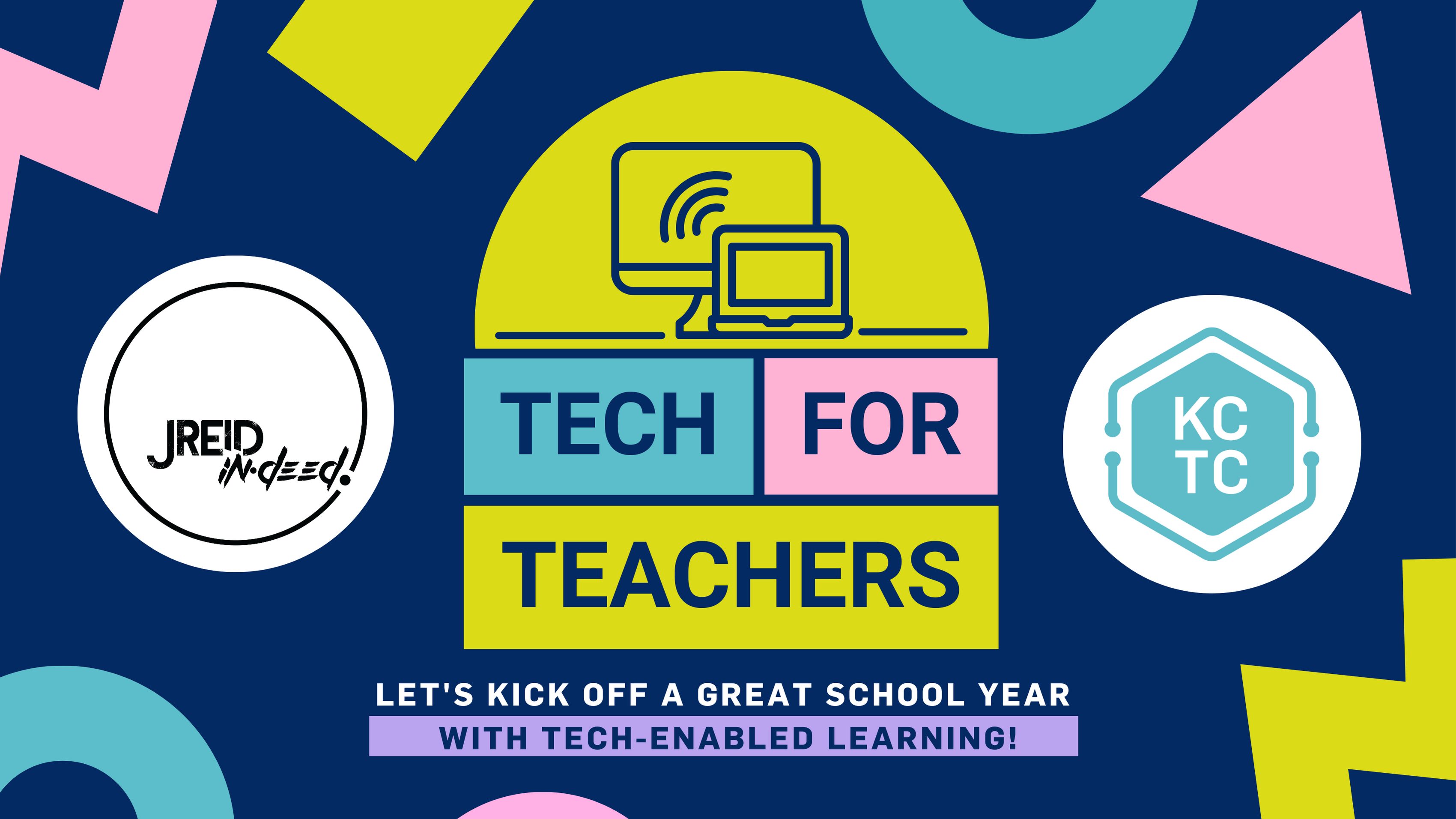 Believe it or not, just like a winning football team starts building its strategy from the early plays, the tech talent pipeline is influenced as early as kindergarten. However, more than ever, educators are spending money out-of-pocket to provide students with the opportunities they deserve to succeed and tech-related purchases are some of the most costly. In response, the KC Tech Council launched the Tech for Teachers program and is now teaming up with JReid InDeed, a charitable organization founded by KC Chiefs Justin Reid, to provide classrooms with tech-enabled learning.
Last year, with the help of VMLY&R, we equipped twelve classrooms across the Kansas City metro with cutting-edge technology tools like 3D printers, virtual reality headsets, and programmable robots. This year, with JReid Indeed by our side, we're set to make an even greater impact!
Thank you for your interest in Tech for Teachers! At this time, submission are closed for the 2023-2024 school year. Please join our team in making a a meaningful impact and help us go the extra yard for our region's educators by clearing lists below.
In order to qualify, the following criteria must be met:
You are a full-time, licensed teacher at any school (K-12 only) in the Kansas City metropolitan area.
The sole purpose of the item(s) submitted for consideration is to advance student education and not for personal use.
You submit an Amazon wish list that includes your school address in order for selected items to ship directly to your classroom.
At this time, the KC Tech Council will be able to purchase items equalling a limited amount for each teacher, whether that's one large item or multiple small items.
FOR THOSE SEEKING TO MAKE CLASSROOM WISHES COME TRUE
JReid InDeed, known for equipping and funding disadvantaged youth and communities, is bringing their A-game to the table. Now we're asking you to do the same. By donating funds or contributing directly to Amazon wish lists, you can be part of this winning team that makes tech dreams come true. Together, we'll spark innovation and make sure that the future tech leaders of Kansas City are ready to tackle any challenge that comes their way.
Educators' wish lists can be found below. Please feel free to click directly on their links to fulfill items and ship directly to their classrooms. You also have the opportunity to contribute funds by clicking the button below. 
Make Classroom Wishes Come True by Fulfilling Tech-Related Amazon Wishlists:
Bradley Anderson
School: Northland CAPS

Class/Grade Levels: Technology Solutions/Juniors and Seniors
Olga Pitenko
School: George Washington Carver Dual language Elementary, KCPS
Class/Grade Levels: Four classes (5th and 6th Grade), 100+ Students
Cate Stein
School: Oregon Trail Middle School
Class/Grade Levels: 7th Grade Social Studies and 7th and 8th Grade Communications and Multimedia
Ginger McCabe
School: Career and Technology Center Fort Osage School District
Class/Grade Levels: 11th and 12th Grade
Jim Lumpkin
School: Career and Technology Center

Class/Grade Levels: 11th and 12th Grade Security
Dane Wutke
School: Northland CAPS

Class/Grade Levels: 11th and 12th Grade
LaVonna Palmer
School: North Kansas City School District/Northland CAPS
Class/Grade Levels: 11th and 12th Grade
Rachel Johnson
School: Hawthorn Hill Elementary

Class/Grade Levels: 3rd Grade
Sr. Stephen Patrick Joly
School: St. Michael the Archangel High School
Class/Grade Levels: Anatomy & Physiology; Astronomy & Meteorology; AP Biology

Sr. Mary Elizabeth Merriam
School: St. Michael the Archangel High School
Class/Grade Levels: Theology, 10th and 11th Grade

Denna Soukup
School: Lee's Summit West High School
Class/Grade Levels: 9th-12th Grade

"My students have been putting the Meta Quest to use immediately to develop and test VR environments using Unity, Blender, and additional tools that they have found for VR development," said Deanna Soukup, educator at Lee's Summit West High School and recipient of the 2022 Tech for Teachers program. "The advantages of incorporating the Quest and other cutting-edge technology into my classes' learning plans is that it allows the students to pursue real-world passion projects that are relevant and meaningful to them. Students' motivation to learn computer science is very high when they are applying those concepts to developing projects for current and cutting-edge technology that they use in the real world."