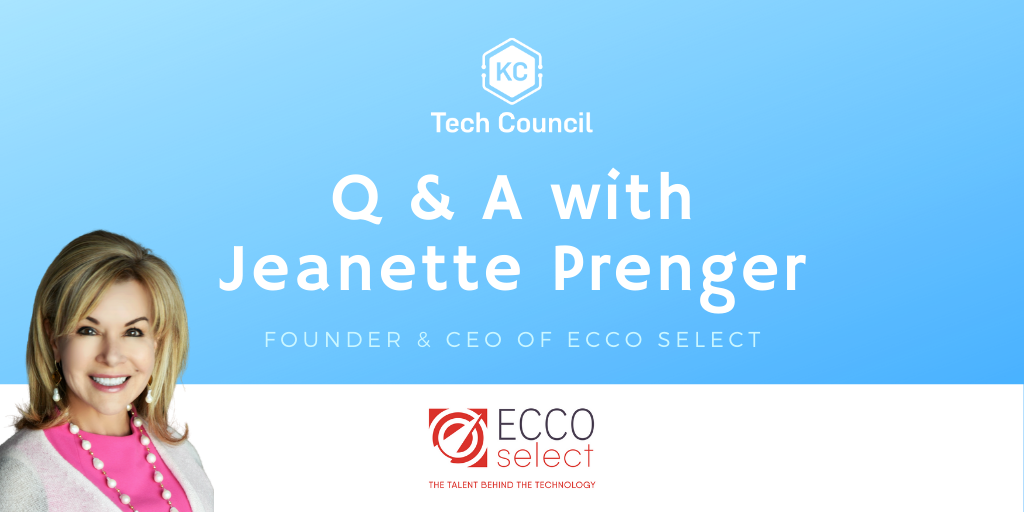 Q&A with ECCO Select Founder & CEO Jeanette Prenger
The KC Tech Council has partnered with ECCO Select to bring the tech audience monthly workforce updates for over a year. In light of the recent pandemic, we decided to go a little more in-depth to uncover ways that COVID-19 has impacted the workforce landscape with ECCO Select Founder and CEO, Jeanette Prenger.
Interested in receiving the Tech Checkpoint? Add yourself to the mailing list. You can also visit previous months' reports on our site.
1.   What's one thing you've learned (or are currently learning) about leading a team through a crisis?
One thing I've learned is the need to communicate, clearly and often, with transparency around the situation. We want to keep the team aware of what we're dealing with and how we are handling the crisis.  It's important to demonstrate a spirit of hope and optimism.  We are living through an unprecedented period of worry and uncertainty.  Nothing discourages or demotivates individuals more than compounding a sense of hopelessness.
2.   How have you been maintaining morale and a sense of normalcy with your team?
Stick to the facts.  Our business has been in the healthiest situation it has ever been in prior to this pandemic.  We use this as our position to rebound from this temporary disruption and communicate actual business results to provide a sense of stability with our team so they can tangibly feel that sense of security.  Additionally, we're touching base daily and making sure our teams focus on what is urgent. We try to make sure everyone is doing ok and be sure to acknowledge the positives that have come out of this situation. We're also looking at planning some fun activities when we are all back together. This is a blip, in the scheme of things, in making sure we stay healthy while keeping the business healthy.
3.   During a difficult time, like the reality we're facing now, where should business leaders look to find hidden opportunities to diversify their cash flow?
Focus on the industries in demand – healthcare, logistics, transportation, retail.  We've focused on where there is increased demand as well as government agencies that had additional dollars added in support of the pandemic.  Similar to what you've seen in lieu of the government's request for manufacturing companies to pivot off of core capabilities that can be transferred to areas of need (i.e. GMC manufacturing ventilators as opposed to automobiles), we've also widened our offerings where our talent acquisition capability can be supportive in areas other than information technology.
4. Are there any opportunities that you see arising for tech staffing and services after this storm has passed?
Honestly, I feel like you are going to see a lot of the same emphases on technology initiatives that were present prior to the pandemic – machine learning, business transformation, automation, artificial intelligence, etc.  We have to remember that this is a global health crisis and not an implosion or response to any systemic flaws in our economy.  I do think this pandemic has put a spotlight on our country's dependence on the global supply chain.  This could be a very positive development in the long term as it pertains to national demand and how that moves downstream across industries.  Finally, the emphasis on a virtual workforce creates an abundance of opportunities for technology firms, particularly as it pertains to business continuity, security, and cloud technologies.
5. What issues will companies have to address first following this?
In my opinion, there will still be a lot of uncertainty on, if, and when this virus might strike again. The ability to 'hunker down' and do what is necessary to stay profitable will be top of mind. I think it would be wise for companies to assess what worked well, what needs improvement and what has to be mitigated so that if we are in a 'stay at home' situation the workforce can continue to be productive.
6.   How can ECCO Select's services be utilized by businesses to help bridge the gap during the Stay-at-Home orders taking place nationwide?
Our 24x7 support services team and call center are obvious fits for organizations that need to remain responsive during crises such as this current outbreak.  Additionally, our managed services business allows us to quickly mobilize workforces into fully equipped, secured, and robust virtual workplaces.  Our talent acquisition business enables organizations to quickly deploy resources, especially for needs that spike due to temporary demand placed on IT resources. We also offer a variety of ways to budget these additional resources, from hourly time and material to fixed fee and deliverable-based statement of work contracts.
7.   How can ECCO Select's services help companies prepare for a second wave, that many are predicting will come in the fall?
I would emphasize our 24x7 support and call center teams as an obvious fallback for industries that are dealing with high volumes of customer need.  I would also mention the tremendous opportunity in the data science space, which is a core capability of our firm.  We are dealing with a pandemic that can be, in theory, quickly controlled if you understand who is at risk, who is immune, and who can be studied to create immunity solutions.  The capability of data science can be leveraged to identify those populations and mobilize the right solution portfolio (ranging from mobile testing solutions to smart-enabled people identifiers to quickly identify those who are immune, at risk, or infected) to treat and protect our citizens.  With these solutions in place, you potentially could avoid drastic social distancing measures that are severely damaging our economy while also ensuring safety for all of our citizens.
8.   In what ways do you see the tech industry providing solutions to this pandemic and economic impact it's had?
I think the opportunities in the software solution and data science spaces are infinite as described above.  It's important that we look for ways to partner, as thought leaders in our respective domains, to address the issues we've faced during this recent outbreak so that solutions are available if and when a second outbreak occurs.  With the right collaboration and focus on the lessons learned, I'm hopeful we can avoid another major disruption in our economy before a vaccine has been approved.