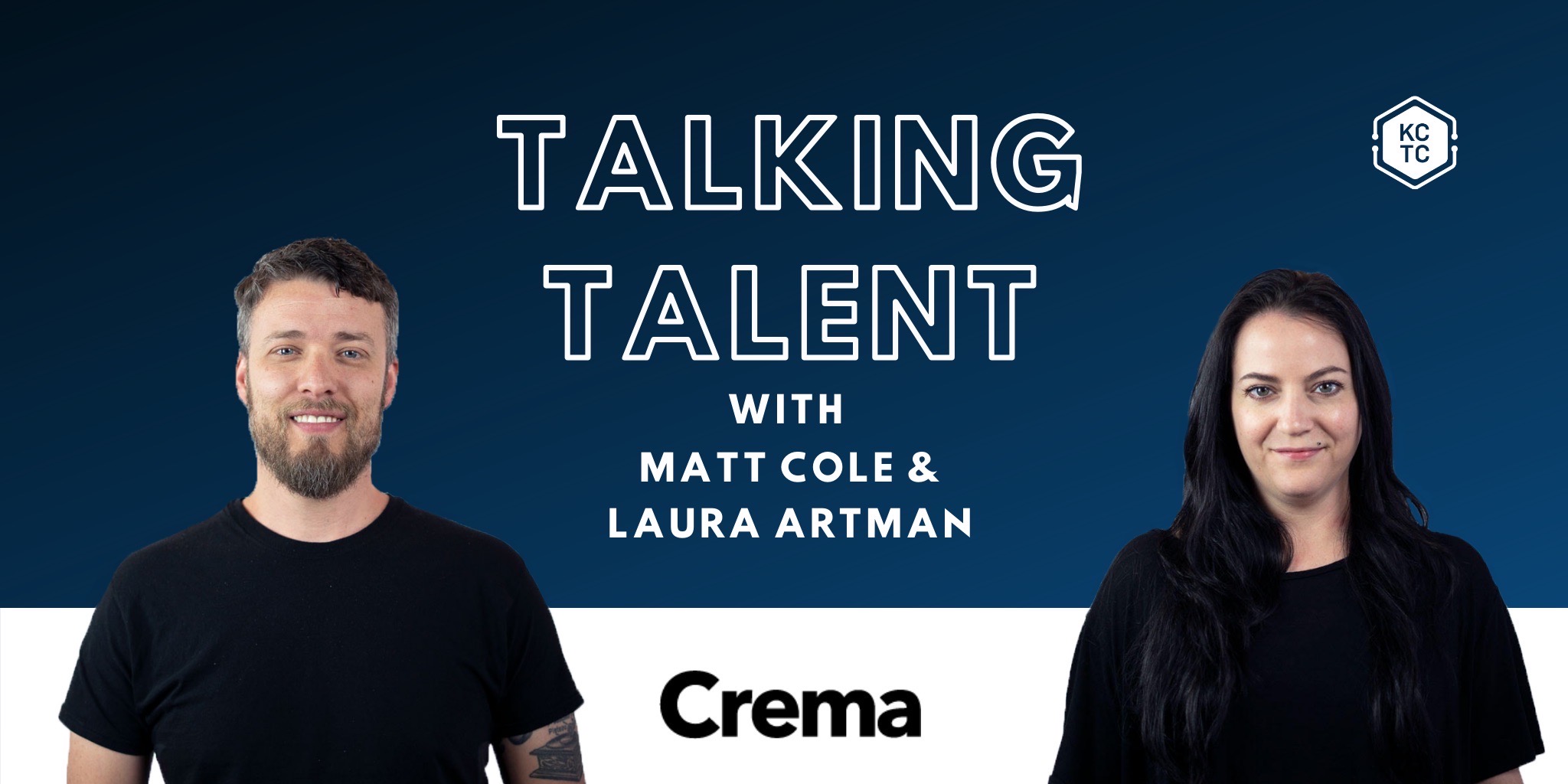 Talking Talent with Matt Cole & Laura Artman
As the recruiting landscape continues to evolve, KCTC reached out to several HR leaders in member companies to get their input on best practices and predictions for the future.
In this installment, we asked Crema's Matt Cole, VP of Engineering, and Laura Artman, Office Manager, to weigh in on the subject.
Q: How has the coronavirus impacted your role most significantly?
A: Most obviously, it's maintaining key processes while fully remote. Specifically, it's the efforts made around employee engagement and maintaining a culture of connection. There's been an increased focus on employee mental health and wellbeing. It's also been a lot of reading of daily news updates to keep up with continuously evolving legislation related to COVID-19, workplace safety guidelines, compliance with ADA, FMLA, the CARES Act, and so on.
Q: What are some basic best practices for HR leaders such as yourself to keep in mind right now?
A: HR leaders should be doing all they can to make employees feel supported. This requires active listening now more than ever and cultivating connectedness with others. A work environment of psychological safety and trust are foundational because in order to receive critical feedback on ways to improve, employees must feel safe enough to provide it. Employees should feel equipped with all the tools they need to work from home successfully. Leadership should aim for over-communication on important all-team messages, including encouraging (and modeling!) physical and mental self-care.
Q: In regards to recruiting candidates, have you adjusted your recruiting techniques or leveraged new tools as a result of the Covid-19 crisis? If so, what are some examples of short-term adjustments you believe will remain as long-term strategies?
A: We haven't had to change too much because we had some great processes and software / tools in place for recruiting. This includes our partnerships with great KC Tech groups (like KCWiT), our content / video that we put out to showcase our company and culture, and tools like Workable to track the application process. We pivoted our interview process to Zoom, obviously, but this has gone over really well for both our employees and the candidates. We believe that a lot of our future hiring will still be remote, and we plan on continuing to utilize these tools and processes.
Q: How do you see remote work changing the way companies recruit and attract a talented tech workforce? 
We believe that many companies will be moving to a completely, or mostly, remote workforce even after all of this. It allows companies to reach a broader pool of talent, and I think it changes where people choose to live and work since they aren't as tied down. For example, cost of living in San Francisco is so high that it can be challenging to live there, but someone can live in a more affordable city and still work for a company in San Francisco. Of course, that also introduces the challenge of attracting talent since they will have more options.
Q:  What's a good piece of advice you'd give to fellow HR and talent professionals of something they should be doing, or something to avoid? 
A: Get creative in rethinking ways to connect as an organization that are an attempt to replace that in-office contact. Be intentional about practicing inclusion while working remotely if this is new to you. There are a ton of remote best practice guides out there that describe how to ensure everyone has their voice heard during meetings, the importance of documenting conversations, and so on. Practice holding an even greater sense of empathy for your fellow co-workers as people adjust to working from home and face a variety of unique challenges associated with childcare, sharing workspaces with other family members, and so on. While remote, embrace the ability to work asynchronously whenever possible. For example, avoid scheduling more video calls than are necessary if email or using a messaging platform like Slack will be sufficient. This will help minimize Zoom fatigue. If you are planning a return to the office, be as thoughtful as possible on your Return to Work strategy so that people will continue to feel safe and supported. In the current social climate, many employers are taking a much closer look at what DEI programs they have in place. My advice would be to slow down in implementing new policies and/or initiatives and not act from a place of urgency. Ensure that you are building in accountability measures, systems to track your progress, and including all stakeholders in the conversation. Do your best to make sure your messaging is genuine and won't be perceived as performative.