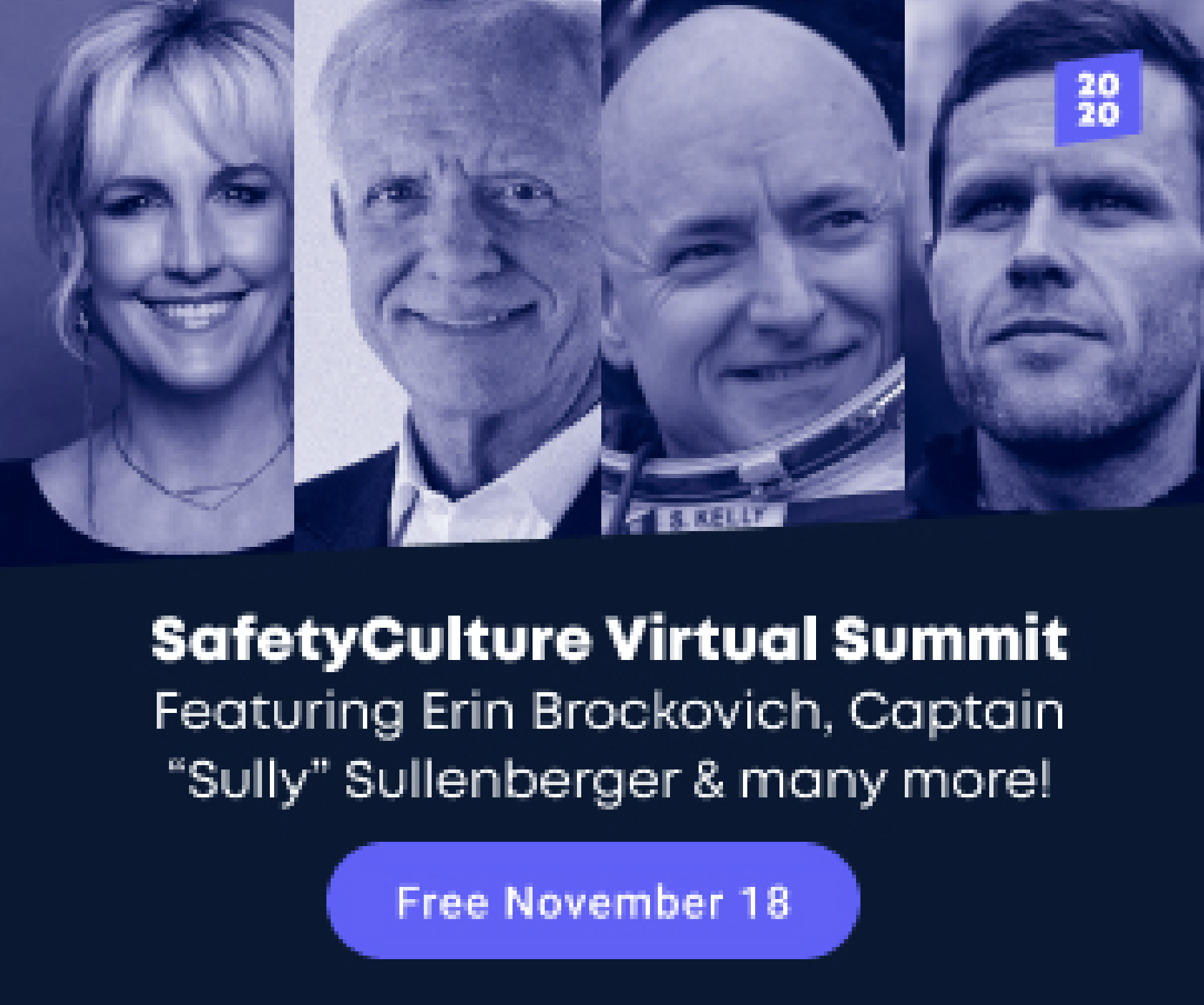 SafetyCulture Summit 2020
How do you feel SafetyCulture itself has "survived & thrived" in 2020?
Pre-pandemic, SafetyCulture was growing year on year. Like most businesses, when COVID hit we experienced a dip in usage as our global client base was impacted by furloughs, border closures and restrictions. Plus, we continued to focus on our employees and their wellness while working from home. We have been selected as one of Kansas Citys Best Places to Work and worked hard to keep the team motivated in high spirits as we work safely from our homes.
We focused on offering a growing list of varied industries expertise and free resources, starting by digitizing government guidelines from around the world into checklists. We made our product free to educators and schools nationwide and recently partnered with the Society for Human Resources Management, California Restaurant Association, Illinois Restaurant Association, and more to raise safety standards across US workplaces.
We've since recorded our largest ever month for new customer sign-ups. More than 75,000 people worldwide are using our flagship iAuditor product to complete daily COVID inspections, and it won 'Best SaaS for Health and Safety or Risk Management' in the international 2020 SaaS Awards.
The pandemic has made it clear there's a huge appetite for training as companies look to get safely back to business. We fast tracked our acquisition of EdApp, the award-winning mobile training solution. The acquisition will enable millions of workers across diverse industries to access world-class micro-learning resources, free of charge.
What inspired the creation of the SafetyCulture Summit?
We want to inspire professionals after a difficult 2020 and show how adversity often breeds innovation and growth.
When looking for inspiration, we tend to look to those 'like us'. Others in our industry sector or professional field; those who have walked this road before us. But we can potentially learn more by looking a little further afield. We wanted to show that ordinary people around the world align with our customers are doing amazing things, and many of our speakers embody that.
By joining our summit, attendees will hear from the pilot responsible for the "Miracle on the Hudson," Capt. Sully Sullenberger; Consumer Advocate & Environmental Activist, Erin Brockovich; history-making NASA Astronaut Scott Kelly and more!
Do you think this is something you all would have pursued in a non-pandemic world? How would it have looked?
Absolutely, in some form, yes. We launched our first customer summit in 2019 and hosted people from around the world in Kansas City. We love these events which inspire business operators to do their best work will always be on our agenda. Our technology is used by more than 26,000 organizations in nearly every industry to optimize processes and performance. We'll always be adapting our support to the latest challenges and opportunities our customers are facing.
Who is the SafetyCulture Summit for?
SafetyCulture Summit 2020 will help all organizations prepare for success in a post-pandemic world. The event will explore fast adaptation, innovation and how businesses can capitalize on recent shifts in business operations to grow rapidly into 2021. We think it's the ultimate virtual event for leaders and innovators in operations, safety, risk, and quality. Plus, it has an inspirational side that anyone can take advantage in our current environment.
How does the spirit of this event reflect the core beliefs and culture of SafetyCulture as a business?
Our customers are at the heart of everything we do. For many of them, threats such as closures, onsite outbreaks, and waning consumer confidence remain top of mind.
This event will provide businesses with the opportunity to learn from unique perspectives and individuals who are masters of adaptation. Between them, our speakers have faced emergency landings, outer space, prison, adversaries, and more. Now is the time to draw on diverse experiences after such an unexpected year.
You've got a killer speaker lineup that could definitely cause the event to sell out. Why make the event free?
COVID-19 has impacted so many businesses financially, and our mission is to help people get safely back to business. We launched our free COVID-19 Response Hub earlier this year, gave schools access to our platform for free, and now we're excited to bring businesses an incredible event that is 100% free to attend. We hope to shed some positive light during this time.