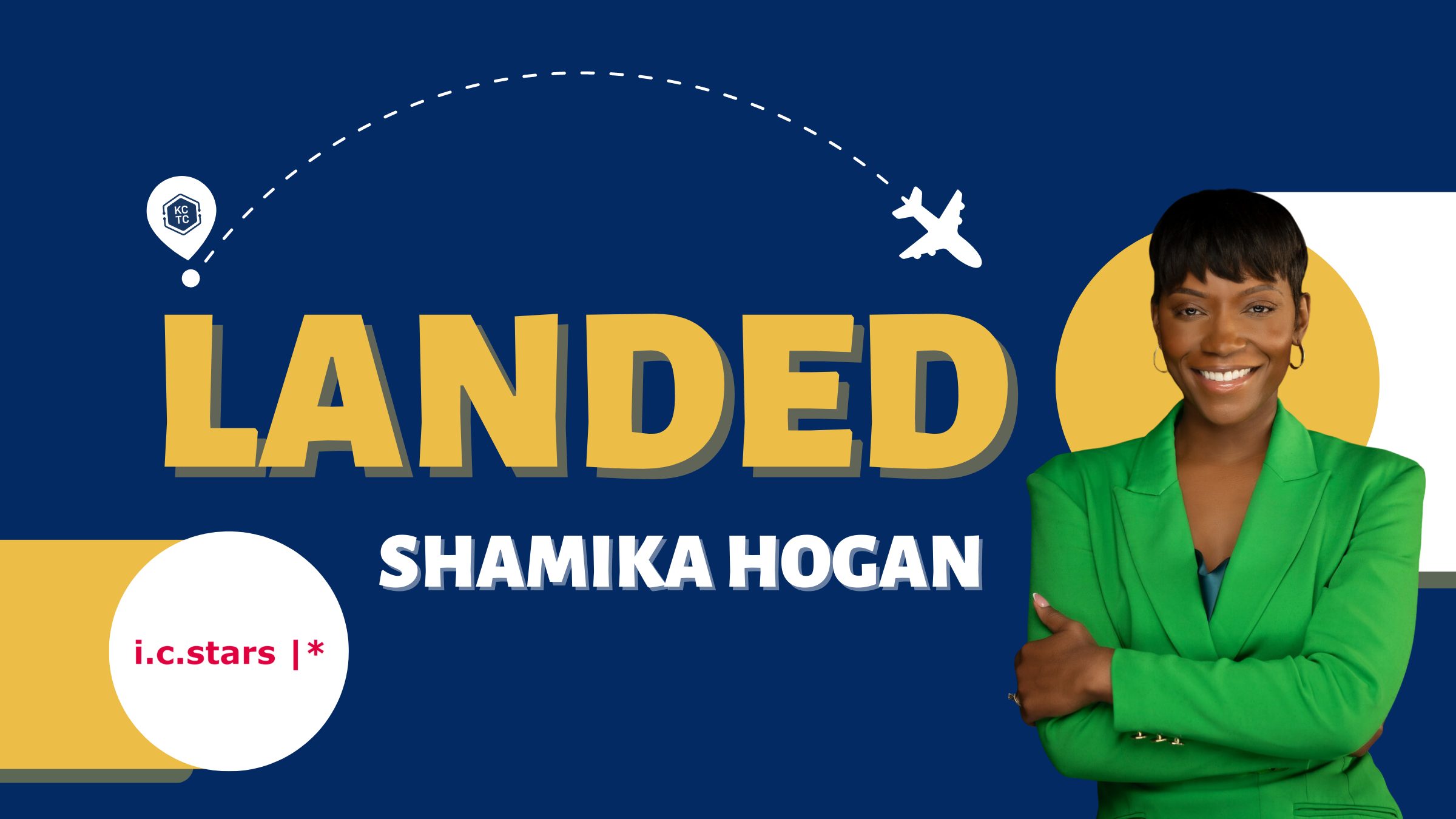 We're proud to celebrate the career progression of present and future leaders in Kansas City's tech industry through our latest content series, Landed. Navigate the edition below to explore Shamika Hogan's road to becoming i.c.stars |* Kansas City's Executive Director.
WHAT DREW YOU TO I.C.STARS?
I learned about i.c.stars from a peer in the Centurion Network. She went on to say that they were in search of an Executive Director to lead the charge in Kansas City, and she believed their mission would resonate with me. As I began to familiarize myself with i.c.stars, I quickly realized that I am i.c.stars! They recruit diverse talent that has demonstrated resilience, that if presented with access and opportunity the sky's the limit. Coming from humble beginnings with young parents, I understand the importance of access and opportunity. I.c.stars looks for resilient young people, who need an opportunity. The technology - and software development in particular - we teach is the vehicle for economic mobility. In learning to build applications, we also help change the mindset of our participants, from consumer to maker.
WHAT DO YOU ENVISION AS THE FUTURE OF TECH IN KANSAS CITY?
We believe that our communities have untapped talent, and the potential to solve the challenges our businesses are facing. As our employers (organizations like Amsted Rail, Accenture, Blue Cross, and United Airlines) know, diversity of thought drives innovation. i.c.stars, working with groups like the KC Tech Council, can provide that diversity of thought, help keep our talent local, and help companies identify the young people they need to build the workforce of the future.
HOW WILL YOUR NEW ROLE HELP PAVE THE WAY FOR YOU VISION OF KC'S TECH INDUSTRY?
As some of our advocates and employer partners will tell you, there is a shortage of tech talent. Finding folks with skills in software development, automation, cloud and cyber is a challenge for many companies, and yet we have plenty of talented, resilient folks in need of opportunity. We know how much talented employees from diverse backgrounds can enrich and strengthen company culture and performance. This is something we need now more than ever in our organizations and in our city. i.c.stars combines community leadership with technology and can be a unifying force for not only our companies but for our city.
Have you landed a new tech role or has your organization landed a sharp new hire? We'd love to help spread the word! KCTC members are invited to reach out for an opportunity to be highlighted in a future edition.